Recently, Modern Materials Handling magazine published a case study of a pet supply company struggling with inventory. Warehouse workers had to physically bring the inventory to a computer to scan it, then send it on to the destination. The process was "cumbersome and inefficient." The problem was solved by adding mobile workstations with scanning capabilities. There was a definite, measureable ROI, productivity increased by 40%, with the added benefit of freeing up workers. Warehouse employees now dedicate less time to product movement. Workers also use the mobile carts as label makers for pallets to save time instead of walking across the warehouse to the workstation to print.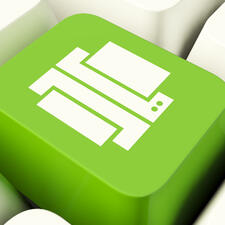 Let's take this one step further. Rather than printing a shipping label, Ultriva supply chain execution software can allow a Kanban label to be printed. This Kanban label acts as an electronic signal to an internal or external point of resupply and can easily communicate with business management software such as ERPs and MRPs.
For example, say a manufacturing company is using Oracle E-Business Suite ERP. Oracle E-Business Suite is the system of records, and Ultriva manages the material flow transactions, using Kanban signals. Consumption on the floor triggers an electronic Kanban signal that can interface with Oracle E-Business Suite to get a discrete purchase order (PO) or a release line against a blanket PO. Suppliers can receive this signal along with the PO and can execute the replenishment by remotely printing a Kanban label while shipping the goods, using Ultriva's Collaborative Electronic Kanban (CEK). When the goods are received at the dock, they are scanned for auto generation of a PO receipt in Oracle E-Business Suite.
Oracle users can use the Ultriva software and their own printers to print labels for the Kanban loops; no special equipment or printers needed. The Kanban label includes prep code, number of dual Kanban cards, item number, quantity, and barcode. The label might also include traceability and serialization requirements. Any messages that set up in the DFM Kanban Label Message program will also be printed on the Kanban label.
Ultriva's Electronic Kanban offers the following benefits:
PO creation for Kanban signals triggered from the point of use
PO receipts for the goods being transacted
Synchronizing item master
Synchronizing supplier master
Data extraction for inventory analysis
All interfaces are monitored by a transactional workflow system.
Oracle is just one of the leading technology solutions with which Ultriva interfaces to deliver the best Demand-Driven Supply Chain. Ultriva is an Oracle Validated Integration solution cloud-based platform that leverages and seamlessly integrates for Oracle users who turn to Ultriva's Supply Chain Cloud solution. Ultriva solutions also integrate with over 20 different ERP and MRP systems quickly and cost effectively. This effectively leverages and extends the investments manufacturing firms have made in their primary ERP systems.
Standardized labels on incoming materials have driven dramatic benefits. Almost 100% inventory accuracy in ERP and elimination of inventory cycle counts are critical metrics that are achieved along with visibility to inventory at multiple storage locations.
Increased accuracy from Kanban labels printed on-demand is statistically significant and has quantifiable impacts on the bottom-line.