Starbucks has found a hit with their seasonal pumpkin spice lattes. I should know. My discriminating and highly opinionated thirteen-year-old daughter Priscilla loves them. She likes the pumpkin spice lattes so much that she convinced a small platoon of girls to join her at the end of the first half day at the Starbucks just a short walk from their middle school.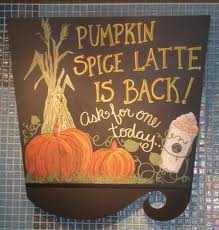 The Starbucks' Chief Revenue Officer loves opinion leaders like my daughter. They can be found at middle schools, high schools, colleges, offices, book clubs and even elementary schools all over the world, and they do a great job driving up demand for the increasingly popular seasonal beverage. But Starbucks' Chief Supply Chain Officer might feel differently. It is one thing to forecast aggregate demand but quite another to forecast exactly where zealous opinion leaders like my daughter might create unexpected spikes in consumption. The result is excess inventory in some locations and shortages elsewhere. According to the Wall-Street Journal, that is exactly what happened this season. While most stores were just fine, other stores encountered shortages. My daughter's Starbucks, for example, ran out early and had to rush a restocking order which arrived the following morning before open.
The Impact of Supply Shortages
Whether it is a humble coffee shop or a hundred thousand square foot discrete manufacturing plant, product shortages create two business problems. One is immediate, and the other is more long term. The immediate problem is missed revenue opportunity because the business can be lost to the competition. The longer term problem is the impact of poor customer satisfaction. Starbucks fans across the country tweeted about the shortage and a micro-panic among seasonal latte lovers seemed to sweep the nation. One fan summed up the collective online angst. "My world almost ended this morning when the local Starbucks told me they were out of Pumpkin Spice Latte," tweeted Jason Sizemore, of Lexington, Kentucky. So before one simply accepts the limitations of demand forecasting, is there perhaps a solution to the kind of shortage Starbucks encountered, especially for large enterprises for which the impact could be substantial? If so, what is that solution?
Supply Chain Execution picks up where Forecasting and Planning Leave Off
Leveraging the power of the Cloud, Ultriva customers track consumption, consumption velocity and inventory in real-time. Deviations from the plan that would normally threaten part shortages appear as alerts as well as under a red "at risk" icon on the Ultriva dashboard which is visible to stakeholders on site, as well as to authorized supply partners. This joint supply chain visibility dramatically improves both collaboration and trust. From there two benefits emerge: Part shortages are eliminated and excess inventory is reduced. On average Ultriva customers reduce safety stock by over $2,000,000 per location.
Alerts are not limited to changes in demand and consumption. Ultriva also alerts its customers and their suppliers to supply problems, such as late or incomplete shipments, late deliveries and inspection delays. Alerts can be triggered for any disruption or out of control processes in the supply chain. Our supply chain collaboration software allows Ultriva customers to remediate any supply chain risks to production early and collaborate with suppliers and transit partners.
Conclusion
Ultriva's collaborative supply chain collaboration software with eKanban provides a platform that seamlessly integrates with over 15 different ERP systems to resolve the challenges described above and provide complete supply chain visibility. Our customers have even implemented Ultriva with eKanban across multiple ERP systems building an interconnected and multi-tier supply network. Click to download our free whitepaper, "Are You Planning to Fail? - Forecast Driven Replenishment Strategies Proliferate Error; Consumption Based Replenishment Systems Tame the Bullwhip"
About the Author
Matthew Schwab is the newest member of the Ultriva team. He lives in a small Silicon Valley suburb where his daughter Priscilla attends the local middle school and is a devoted consumer of Starbucks' Pumpkin Spice Latte.
Please submit your comments or suggestions to Matthew below. We would love to hear your opinions about this topic.